Clone Wars – Localization Before the Locals Capture the Market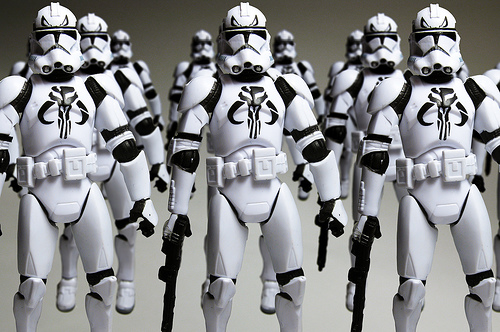 Image by Montine Rummel
The phrase "What you wish that you had done if…"  is used a lot when it comes to personal decisions, buying decisions and business decisions.  This is heard a lot when it comes to localization of great products and the results of localization mistakes made after the fact–cloning.  Let's look at some of the recent Chinese examples.
Stark Reality
On June 4th, Chinese Foursquare users woke up with a bit of modern cut and paste as the Great Firewall blocked Foursquare.  Last year, during the 20th anniversary many popular websites such as Flicker,  bing.com,  hotmail,  Youtube, and Twitter were blocked.  Wordpress was also blocked earlier.
The Chinese have the ability to move quickly to copy.  According to Reuters, the iPad knock-off was apparently developed in two months.  Announcements and rumors on the iPad gave clone developers enough runway to intersect the market timing for the iPad.
Stark Practicality
China monitors the information flow very closely.  However, many users were still able to use Twitter by using other applications (ie Twitter Clones using Twitter API) although Twitter was blocked.  With the increase of the number of internet users and the knowledge of users, the kind of tactics used to control and monitor the massive amount of information on the internet seems almost impossible.
One person's loss is another's gain
While the debate over censorship was being hotly discussed, the clone sites started fill the void. Here are some great examples of Chinese Twitter-like sites.
Poor localization strategy can affect great products.  Great products are still great ideas as demonstrated by the success of the clones.
Localization Planning.
Part of the marketing effort to localize on foreign soil is to understand the business and cultural norms of the society.  Localization isn't just understanding how to translate your native language into the foreign language but understanding how the roles of other factors play like the governmental/political landscape, socio-cultural/ economic landscape, as well as the business relationships.
Governmental/Political landscape
As shown above, the governments have the ability to control media channels and entering the market without realizing this could experience an expensive wake-up call.  In Japan, the government controls aren't as strict as China, but establishing a business in Japan means some serious dotting the Is and crossing the Ts as you wind your way through its bureaucracy.
Socio-Cultural/Economic landscape
In a recent article by Asiajin, Rakuten-the Japanese B2C titan, spent some serious thought of how its brand name in China was to be interpreted both in Chinese and Japanese.  Paying attention to Socio-economic commerce trends also play a part in your localization strategy.
For example, a survey by Japan.internet.com shows 46% of people surveyed by Japan.internet.com don't pay money to play online games. 54% don't spend more than ¥1,000($11.11).  Depending on your business model, this may affect how to position your value-added micro-payments strategy which will affect your revenue estimates for that market.
Business Relationships
There are several market entry choices from licensing, joint ventures to establishing a direct subsidiary, each having a risk / control issues for businesses.  Having the ability to find the right choice to make your market entry a success is important.  Catalyzed by social networking, partnering with a firm or consultant that is familiar with the foreign landscape seems to be a safe choice.
Earlier this year Rakuten announced that they were partnering with Chinese search giant, Baidu- a leader in their sector and in good graces with the government, to provide an e-mall in China.  Rakuten realized that the business landscape in China required a strong technical partner and one that is connected well with the government.
A lot of companies around the globe partner with digital media agencies, marketing consulting agencies and consultants to help them enter the Japan market.
Our localization experience, especially in China,  has shown the fact that all these items are interconnected.  If not localized correctly,  your product can show in stark contrast to the fabric of the nation you are trying to enter.  Planning for this takes well thought out strategic marketing plan.  Are you ready to win the Clone war?
Follow btrax on twitter (@btrax) and facebook