5 Smartphone Apps Japanese Millennials Are Using
Today, if you're in your late teens or early 20s, when you meet someone at an event and become friends, instead of exchanging phone numbers, you might search their name the following day and add them on Facebook. As a result, a lot of young people no longer store phone numbers and rely on applications like Facebook Messenger (and their voice call function) to communicate with friends.
In Japan, there's a similar phenomenon but instead of communicating on Facebook Messenger (although they do that too), they might use the messaging and voice call features on the LINE app. This is because Facebook is considered more professional and more personal communication tends to occur on LINE.
From the Japanese perspective
Recently, we published an article on our Japanese blog chronically the observations from a Japanese student going on a road trip for the first time with American millennials. He noticed throughout the trip that the smartphone applications used by young American people were very different from what he was used to in Japan.
Based on his observations, this article will outline a 5 key differences in the main smartphone applications young people in Japan and the US use in their daily lives for communication and entertainment.
1) LINE vs. Facebook Messenger
Before the trip
In America, when going on a road trip, friends might create group chats on Messenger or even just do a classic group text (iMessage, anyone?) to coordinate logistics and keep in touch. In Japan, people usually make LINE groups for that. Facebook Messenger is also in use but often for communicating with non-Japanese friends or colleagues and work associates.
LINE is famous for its vast catalog of stickers, but Facebook Messenger also has unique features like being able to send GIF reactions easily using the built-in GIF search.
At a glance
Established: 2011
Monthly Active Users: 212 million
Revenue: $233.7 million  (2015)
Countries active: 41
Established: 2011
Users: 800 million
Revenue: $4.4 billion (Facebook)
Countries active: 127 (Facebook)
2) AWA vs. Spotify
During the trip
Today, many people stream music directly through Spotify Premium or Pandora instead of downloading the music directly to their phones, although Pandora's user base skews older. Spotify Premium offers an offline syncing function that allows you to listen to your music even when you don't have data or WiFi.
In Japan, young people use a similar streaming service named AWA, which is a subscription type music distribution service launched in 2015. The service is a joint venture by CyberAgent and Avex Group, and allows users to enjoy over five million tracks including Japanese and foreign music.
At a glance
Japan: AWA
Established: 2015
Users: 5.8 million (downloads)
Revenue: –
Countries active: Japan
Established: 2008
Users: 75 million (20 million paid subscribers)
Revenue: $1.3 billion (2014) / $1.06 billion in funding
Countries active: 60+
3) Rakuten Travel vs. Airbnb
Accommodation
What would a group of young American millennials in the Bay Area do when planning a ski trip to Tahoe on a long weekend? Probably book a cabin on Airbnb. Although Airbnb is well-known in Japan, when Japanese young professionals and students plan their travels, they tend to go on Rakuten Travel or Expedia Japan to look at hotel deals instead of booking an Airbnb.
Sharing economy services are extremely normal in the Bay Area, and with the momentum that Airbnb as around the world, it may only be a matter of time before renting someone's apartment over a weekend becomes mainstream in Japan, too.
At a glance
Established: 2001
Users: 16 million
Revenue: $79 million (Q2 2015)
Countries active: Global
Established: 2008
Users: 50 million
Revenue: $900 million (2015 forecast)
Countries active: 192
4) Tabelog vs. Yelp
Food
It's become commonplace to "Yelp something" when deciding on what restaurant to go to for lunch or dinner, but different countries often have their own version of Yelp which has a more localized variety of restaurants to choose from. Japan is no exception, and their version of Yelp is called Tabelog.
While Yelp not only provides reviews for restaurants but also small businesses like hair salons, Tabelog focuses specifically on restaurants and currently has over 836,000 restaurants on file and more than 11 million reviews written by users.
At a glance
Japan: 食べログ (Tabelog)
Established: 2005
Monthly Active Users: 68.3 million
Revenue: $29.5 million (Q1 2016)
Countries active: 34
Established: 2004
Users: 89 million registered / 14.2 million unique users per month
Revenue: $377.5 million (2014)
Countries active: 26
5) Venmo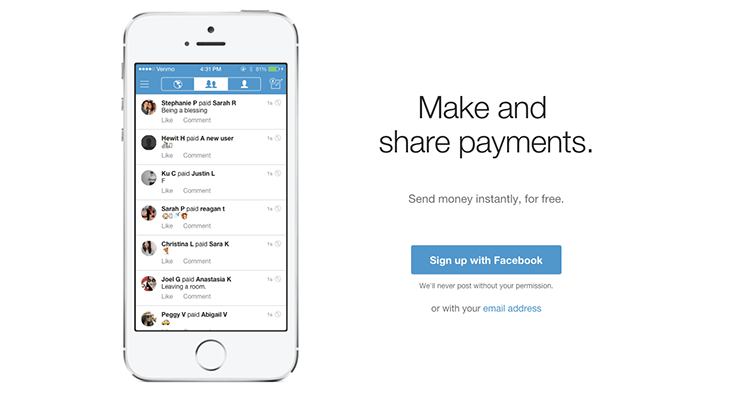 Payment
In the US, Venmo has become the most popular app for settling bills with your friends and roommates. In fact, it's become so common that the word "Venmo" itself can be used to describe the action of paying somebody back. For example, if you tell somebody you'll "Venmo" them, it means you'll pay them back for something they're paying for you now.
The most common case is settling the bill at a restaurant. One person covers the bill with a credit card and everyone else "Venmos" that person the amount they owe them. Another common use case is settling electricity and internet bills between roommates.
In Japan, bills at restaurants are usually settled at the cashier near the front by taking the receipt on the table and having everybody split the bill at that moment. Line Pay (run by Line Corporation) offers similar features to Venmo and even lets you make payments through the app at affiliated online and brick-and-mortar stores, but this feature within the LINE app is not yet commonplace among young people.
At a glance
Established: 2009
Users: –
Revenue: Acquired by Braintree for $26.2 million in 2012 / Processed $2.1 billion in transactions in Q3 of 2015
Countries active: USA only
Featured image: Tom Wang/Shutterstock