It is well-known that SXSW Interactive is the land of the "new," the place where the latest cutting edge technology is born and displayed to the world, often for the first time. So it wouldn't be a stretch to say that a good majority of the brands exhibiting at SXSW may not have existed 10 years ago.
Yet, there was Yamaha – a Japanese company founded in the late 1800s. At SXSW Interactive 2018, Yamaha offered an exciting experience the old with the new through music and  artificial intelligence.
As we discussed in an earlier article about the future of music and its relationship with technology, in collaboration with HAKUHODO i-studio,Yamaha exhibited an experiential installation at SXSW 2018. The installation, titled "Duet with YOO," uses the Yamaha AI Music Ensemble System to create an interactive AI experience where a musician feels like they are playing with another musician.
Here's what the installation looked like at SXSW 2018.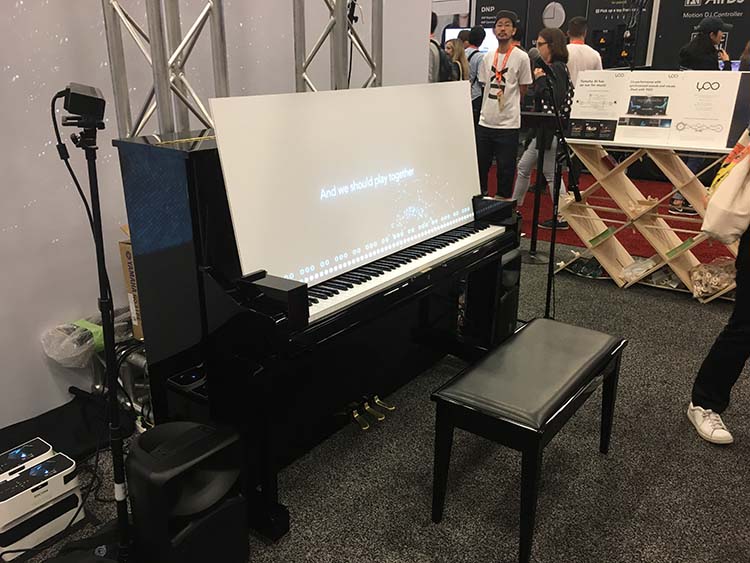 Check out the video below to see music and AI in action!
Experiencing our client's AI installation "Duet with Yoo"🎹 #SXSW #SXSW2018 #yamaha #ai pic.twitter.com/mu52kWqsUe

— btrax (@btrax) March 13, 2018
YOO was my first AI musician to play music with, and the experience was fascinating. I think it has a huge potential in live music performance and education
– Ayaka Matsui, pictured above playing the piano
As you can see, YOO is able to match to the player's tempo and style. According to visitors at the booth, even though "Duet with YOO" showcases AI capabilities, it feels like you are playing with a real person.
Here's a video from a different visitor in comparison. From this video, you can see that even when the player suddenly changes their tempo, YOO is able to quickly match up with the player and stay in sync.
YAMAHAさんのYOO🎹 ただ連弾ができるだけではなく強弱やスピードを合わせてくれるAIパートナー✨ 楽譜が流れてく感じも楽しくて好き💓 アップデートしたものを5月に銀座のYAMAHAさんで体験できるそう😍#MBSSXSW #SXSW #YamahaYOO pic.twitter.com/CwgxaEvpsK

— Ayana (@nyaaa5_k) March 12, 2018
A team from SXTXState, a project of the graduate program in the Texas State University School of Journalism & Mass Communication, calls "Duet with YOO" a "fun approach to learning music."
Yamaha is launching its own AI project called Duet with YOO. Designed for those looking to learn how to play piano but also achieve the confidence to keep going. YOO will follow your pace and how you play to not only accompany you but also guide you through the song you are playing. While YOO is still being developed, it really is a fun approach to learning music.
 – Megan Boyle, sxtxstate.com
See below for the video of Megan from SXTXState and her experience with "Duet with YOO."
Thousands of people stopped by the booth and hundreds tried out the piano. The installation roused interest from many members of the media in attendance,  including Sendenkaigi, Nikkei BP and Digiday from Japan, as well as Engadget from the U.S.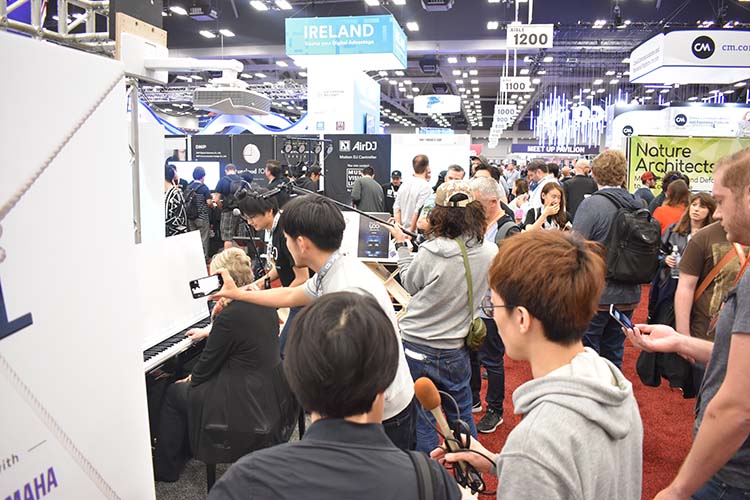 Yamaha will continue developing this AI Music Ensemble System, and according to visitors at SXSW, an updated version of YOO will debut in Tokyo this summer.
Over the years, Yamaha has evolved and adapted with the times to stay on top of the world of musical instrument manufacturing. Yamaha is now a leader in the world of music technology and the creator of the vocaloid synthesizer used by the phenomenon that is digital idol Hatsune Miku.
With a company like Yamaha increasingly devoting energy into artificial intelligence, it's clear that the future of music goes hand in hand with technology, and we are only at the beginning.
You can view the website for "Duet with YOO" here (Japanese),
View the full press release for "Duet with YOO."
| | |
| --- | --- |
| | Contributor. Currently based in Tokyo. A third culture kid from Australia, Hong Kong and San Francisco. Lover of social technology and pop culture, and always excited for a good brand story. |
Our new E-Book is here!
We're thrilled to announce the release of our newest e-book: "What I Wish I Knew Before Entering the Japanese Market."
Featuring insights from industry professionals who have successfully navigated Japanese markets, this e-book will help you conquer the Japanese business world with confidence.