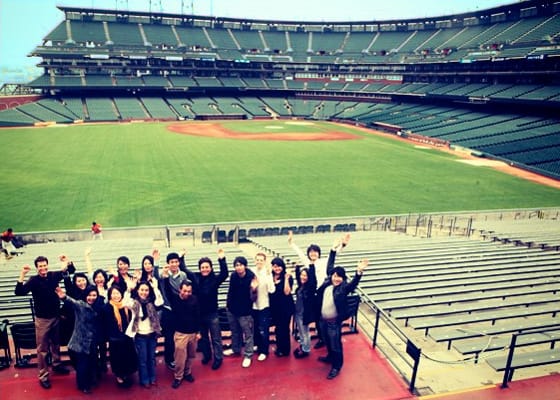 btrax just turned seven this month and we wanted to take a moment to reflect on the road we've traveled.
It's rather humbling to see how far we've come, especially in the past year.  That's in no small part due to our amazing clients, supportive friends, fans and hardworking team.
Here are seven milestones that have shaped who we are as a company:
#1 – The Big Bang

Our company was born in 2004 with a bang when a group of four Japanese web designers led by Brandon Hill convinced Expedia to hire them to launch into the Japanese market.
This in itself was auspicious as Expedia originally had been looking to hire one or two internal staff. But the travel search giant quickly saw the advantages of a bi-cultural team with both a deep understanding of Japanese consumers and ability to communicate in English to solve technical hurdles.
The Expedia Japan site was a huge success and directly led to more projects with Expedia subsidiaries TripAdvisor and Hotels.com. Most recently btrax worked with Expedia on their Korean market portal.
With 100% of our staff speaking more two or more languages at a business level (currently English, Japanese, Mandarin, Cantonese and Thai), we have a personal affinity for travel!
#2 – Upwardly Mobile

Since many btraxers were born in Japan, we've been exploring the potential of mobile devices long before the advent of the iPhone, aided by constant exposure to new tech advancements there.
We put that experience to work as one of the first U.S. creative agencies with a mobile website and continue to explore the mobile frontier for clients in social gaming, geolocation, augmented reality, mobile user experience, app localization and PR.
#3 – Recession Revolution
btrax's focus on the power of multilingual e-commerce and cross-cultural branding showed its value clearly during the economic downturn of the past few years.
While many creative agencies shuttered, our company actually grew along with our global-focused clients.  We worked hard with diverse companies to create cross-border revenue streams that became the main area of business growth during the recession.
And this trend is only accelerating – 70% of all future global growth is projected to happen outside the U.S. and most of it in Asia. So we're excited about what is around the bend!
#4 – Completing the Triangle

After gaining a solid reputation for US-Japan market projects, btrax started growing a new China market division from the ground up after seeing the potential for our clients back in 2007.
We gradually built up a full production team of native Mandarin and Cantonese speakers at our San Francisco office. Although the timing took longer than we expected (largely because of the economy), China finally became a red hot topic and started making good on its potential, particularly for Western brand companies.
The triangle of US-Japan-China is btrax's sweet spot – domestic and cross-border business between those countries now represent the largest chunk of opportunities for companies looking to grow (including us!).
#5 – Giving Japanese Entrepreneurs a Springboard

Being in the heart of startup land (we're in the same neighborhood as Twitter, Yelp, Wikipedia, WordPress, etc.), btrax decided to help expose more Asian innovators to Silicon Valley's powerful mix of venture funding and supportive environment for transforming ideas into reality.
Working with our entrepreneur friends and SF New Tech, we held Japan Night in October of 2010, bringing 6 startups from Japan to demo in front of a San Francisco audience of developers, VC, media and users. The resulting rave reviews convinced us to make this a regular event.
Our second Japan Night was deluged with Japanese entries and became a bright point for Japan, which continues to face serious challenges after the trio of earthquake, tsunami and nuclear disasters. Our next Japan Night is already scheduled for November 2011 – we hope you'll come!
#6 – High Tech & High Touch

We're geeks at heart and love both web technology and business strategies that work. But we're also geeks who understand people.
The evolution of social media has had a big impact on how we approach challenges for our clients. We've been early adopters and experimenters, thanks to our close proximity to the inventors, who are also frequently our friends!
We believe the future will be won by those who know how to be relevant – the right product, service or information at the right time and place. Conversations and loyalty don't come from automation, since being meaningful, playful and non-pushy takes an experienced human element.
Location aware devices and social network context are what will make that people-centric vision possible, which is why we're invested in them.
#7 – The Future Looks Bright
We're proud of the outsized impact our team of 25 has for our clients and in being a bridge to Asia. And it never hurts to have the World Series champ a block from your office for inspiration (Go SF Giants!).
We want to thank each of our 160+ clients for continuing to chose us. The best years are still in front of us – in September we'll be opening an office in Japan and more exciting projects to announce this fall!