Top 15 Startups to Compete at Tokyo Semi-Final
After reviewing all candidates from our open call for Japan Night VI applications, we've selected fifteen promising startups to compete at our semi-final event in Tokyo. Six surviving finalists will then demo to a live audience in San Francisco, where an All-Star judges panel will pick the ultimate winner! Here's a rundown of the top 15.
1) Cooori: The smart way to learn Japanese
Cooori is an online resource for Japanese learners of all levels. The system employs artificial intelligence engines to build a model of how each person studies, offering a guided build-up of knowledge that is unique to the Cooori system.
2) Ring: Wearable Tech
Ring creators envision a world where you can communicate with others and control objects by using a sleek and simple device that fits on your index finger. Expected launch date is in 2014.
The "FUKUSHIMA Wheel" project was developed as a response to the nuclear accident in Fukushima. This "smartbike" features environmental sensors to measure radiation levels, temperature, humidity, and carbon emissions in real time. The device also acts as an activity tracker, calculating the average speed, distance, and number of calories burned – all via a smartphone app.
4) Brand Pit: A revolutionary market research tool
By using state of the art image recognition and analysis technologies, Brand Pit identifies brand logos and products in photos to assess popularity. In-depth analytics provide insight into user demographics and engagement.
5) Quchy: Your go-to rolodex of your favorite restaurants
Quchy provides a simple way to keep track of your favorite restaurants and shops. Discover a new place, save the card, write a comment, and share with your friends.
6) Locarise: Tracking retail store performance
Locarise outfits retail businesses with sensors to track real-time store traffic. The system provides invaluable insight into key customer metrics like dwell time, window conversion and retention rate, allowing businesses to optimize staffing and store layout.
7) Scoppy: Digital loyalty punch cards
In this digital age, paper punch cards are so outdated. Scoppy is a digital solution that lets loyal customers take photos of their purchases, share with their friends, and accumulate points for store discounts.
8) CODEPREP: Learn programming online
With "Create Engineers" as their mission, CODEPREP is an online learning service for beginning programmers. Users learn different coding languages, including HTML, CSS, and JavaScript. The service also connects programmers with an online community to provide support for developing their own products.
9) Ojisan – A battery-saving app
Made for anyone who is frustrated with the short battery life of Android phones, Ojisan is a mobile game that actually increases your battery life. The game helps manage your apps by providing an overall score based on functionality and usage, and removing inactive or unnecessary applications.
10) Moff: Making toys come to life
How many times have you seen a kid playing with a toy car and making "vroom vroom" sound effects? With Moff, kids no longer have to make up the sounds — the toys will actually create sounds that reflect the child's movements and gestures.
Creative Survey is a design research service that provides feedback on web design. By conducting customer surveys, the service identifies which parts of design are most effective and offers advice on how to improve.
12) ORIGAMI: Connecting artists and fans
ORIGAMI is an online platform for artists to showcase their work. Fans can connect with their favorite artists and show their support by purchasing credits.
13) Up-Health: Balance your health
Up-Health is a tool that analyzes your social media usage and offers personalized tips on how to attain a healthy lifestyle.
14) FOURBEAT: Multifunctional gaming device
FOURBEAT is a multifunctional device that can be used for a variety of games. Play with friends for trivia night and speed racing, or switch to single-mode to practice your percussion skills. More apps are currently in development.
15) MakaMaka: A more private SNS
MakaMaka is a social networking service for those who want a more private way to share photos and videos in different circles of friends. Photos from an embarrassing Friday night can be limited to close friends, whereas cute baby photos can be shared with the family-only circle.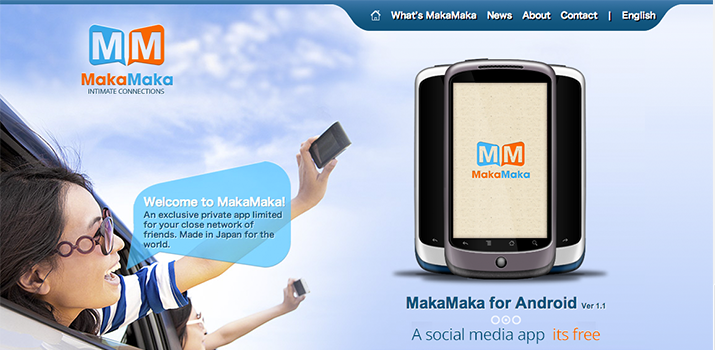 To see these 15 startups go head to head, join btrax for the Tokyo semi-finals on October 5th, 2013. Tickets are now on sale!