Discover Japan's 6 Most Innovative Startups
Wearable technology startup Ring emerged as the top contender at the JapanNight semi-final in Tokyo earlier this month. All eyes now turn to the finals event in San Francisco on November 7th, where Ring and five other finalists will compete for the Silicon Valley title. Who will win this year?
1) Ring: Wearable Tech
As a strong indicator of the wearable technology trend, Ring was picked as the top finalist after impressing the judges with their working prototype. The device is gesture-based, allowing you to trigger something on a computer screen with customized gestures. "It's almost like they've taken the Wii remote and turned it into a ring," said btrax CEO and JapanNight judge Brandon Hill.
Ring creators envision a world where you can communicate with others and control objects simply by using the device. They're currently working on making Ring smaller and sleeker, and are aiming for a 2014 launch date.
2) FOURBEAT: Physical interfaces for smart devices
FOURBEAT was the audience favorite. The multifunctional gaming device allows you to use the same interface for speed racing, trivia night, and percussion practice. Judge Benjamin Joffe summed it up well when he said FOURBEAT is basically creating "physical interfaces for smart devices." With a Seeedstudio partnership and an open API, the company hopes to foster a community of developers who will add to the variety of apps.
3) Cooori: The smart way to learn Japanese
Cooori is a unique system that employs artificial intelligence engines to build a model of how each person studies. The system will then create different tasks and questions based on each individual learner. With the e-learning market growing by more than 20% per year, CEO Arnar Jensson sees the perfect opportunity to expand his language learning software. In fact, he used the JapanNight event to formally announced the addition of English learning for Japanese students, with further plans to add Chinese and Spanish.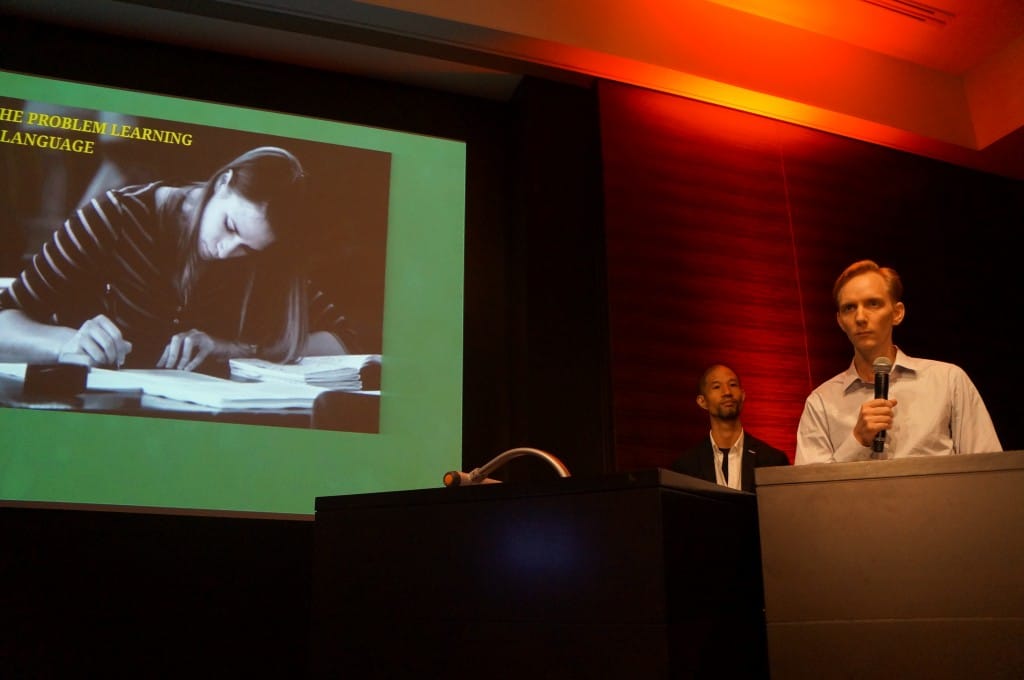 4) Ojisan – A battery-saving app
A cute and simple app made for anyone frustrated with the short battery life of their phone, Ojisan helps organize your apps based on functionality and usage, allowing you to identify and delete unnecessary apps. The judges were pleased with the UI, but were most impressed with the startup's business model. Once the app is installed, it can gather valuable market data on user behavior – including what apps are most popular and how often apps are used. Ojisan also functions as an advertisement platform, giving them a steady revenue stream.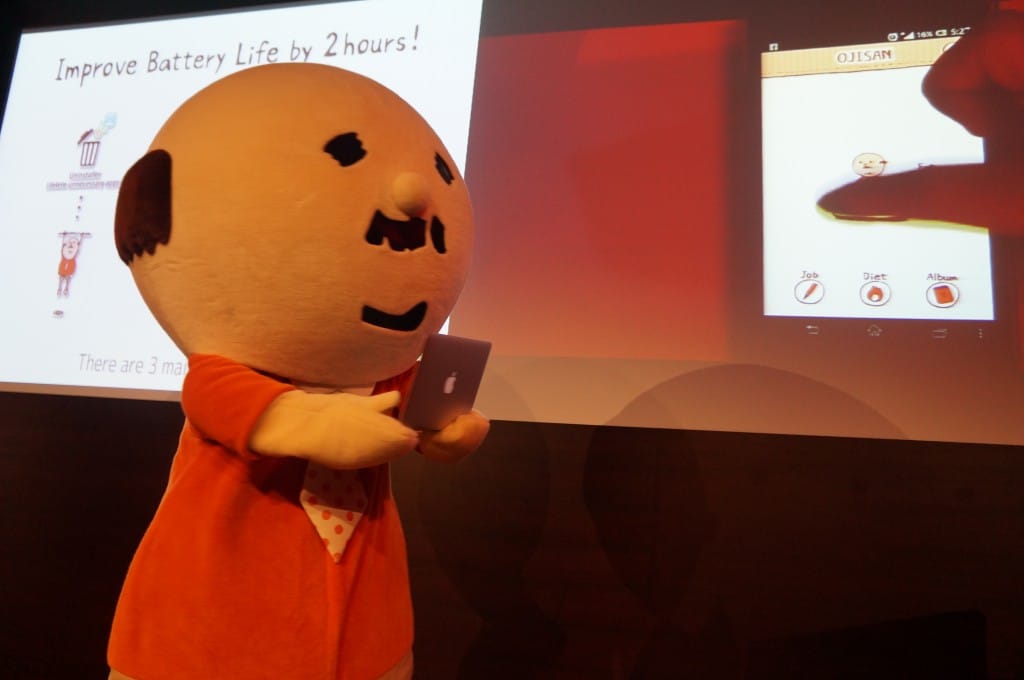 5) CODEPREP: Learn programming online
As we saw with Cooori, e-learning is a rapidly growing industry. People are increasingly turning to online classes to learn new skills – especially in technology and design. With "Create Engineers" as their mission, CODEPREP is an online learning service for beginning programmers. The interactive service focuses on teaching people how to code and how to create products, and then connects them with companies that are seeking to hire engineers.
The "FUKUSHIMA Wheel" project was developed as a response to the nuclear accident in Fukushima. This "SmartBike" measures radiation levels, temperature, humidity, and carbon emissions, and also acts as an activity tracker by calculating the average speed, distance, and number of calories burned. As an additional money-making perk, the bike includes an LED kit that turns the wheel into a moving advertisement. The company hopes to launch a "buy my ride" campaign, which would allow bicyclists to make money while riding around a city.
Who will be number one? Find out at the JapanNight VI Finals!
Thirty startups have competed at the JapanNight finals since 2010 – and over half have been funded, acquired or established overseas within six months. These six startups will now need to impress an SF audience and an All-Star judges panel, including the founders of Airbnb, Failcon, and Sauce Labs.
Come hear what key business advice the founders offer emerging entrepreneurs, and see which startup will be picked as the winner!