[Event] An Event to Debut Japanese Web/Mobile Startups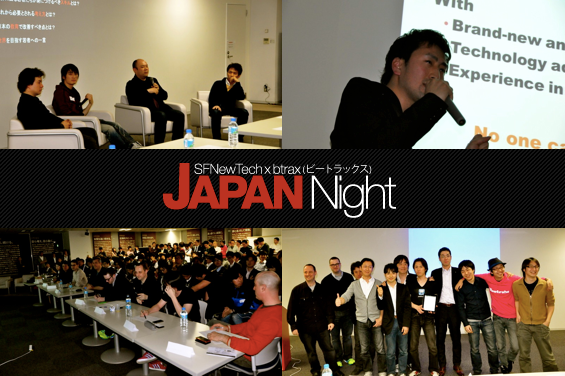 On April 25 , 2012, btrax is excited to annouce the 4th SF Japan Night in conjunction with SF New Tech. The last SF Japan Night was very successful with over 250 people attending the event night with over 1000 online viewers watching the event streamed live.

Since February, we have been looking Japanese web start-ups for six spots at Japan Night and the response has been great. Bolstered by the success of companies like myGengo who got local VC funding after last year's Japan Night, this year more than 30 companies applied and 15 of them passed into the second round.
You can get your ticket here:
[eventbrite eventid=3280515109 type=ticket width=100% height=400]
SF New Tech Finalists:
| | |
| --- | --- |
| | A music community service which enables users to share their favorite music with their friends. Users can create their own avatars and start listening to their friends' favorite music easily. (@beatrobo) |
| | A Peer-to-peer job marketplace for co-working spaces. It is a platform to sell and buy small tasks directly from each other and to reserve space and accepts payment from people using credit card or PayPal. Coworkify won first place at Startup Weekend Kyoto 2011. (@cwrkfy) |
| | An online service that assists users find a good restaurant based on friends' recommendations. Users can collect trustworthy information by asking questions and receiving answers from their friends. (@foodstoq) |
| | An aggregation of cloud services for developing mobile apps. It provides user friendly platform to develop mobile apps. |
| | An iPhone App that allows users to download and carry sheet music on mobile devices such as iPhone and iPad. piaScore has earned a Distinguished Honoree medal in Consumer Entertainment/Information in the 2011 International Business Awards. (@piaScore) |
| | A free web browser compatible with Windows, Mac, iPhone/iPad, Android and Windows phone. Another feature, "Fenrir Pass," is a free cloud service that allows users to access their own bookmarks from different devices. (@fenrir_official) |
Our hope is to continue this on-going platform for start-up companies in Japan to participate on the global stage with the first stop in San Francisco -the ground zero for high tech web /mobile start-ups. As with the last three events, we are expecting over 300 people to be attending this unique event .
We hope to get sponsors who want to help these start-ups by supporting our event. Also, we appreciate media coverage to support these innovative start-ups. Individual interviews with each of the finalists and a media pass are available upon request. Inquiries to acquire a media pass or to learn more about becoming a sponsor, please contact japannight@btrax.com