In conjunction with the expansion of our global operations, we recently launched our btrax Japan office in Roppongi Hills, Tokyo. Our new office will enable us to assist with larger-scale projects, and provide our branding and cross-cultural marketing services more smoothly than ever before. We also plan to hold a number of exciting events and seminars, starting with the upcoming JapanNight.
btrax Japan Launch Party
To celebrate the opening of our new Tokyo office, we held our btrax Japan Launch Party at the Tokyo Ubiquitous Collaboration Plaza CANVAS on July 16th, 2013. We were honored to have guests from a wide variety of industries, as well as such engaging speakers as Takahito Iguchi of Telepathy, Fumihiko Nakajima of Dentsu, Atsuhiro Murata of Uchida Yoko, and our very own Brandon Hill, btrax CEO.
The event speeches highlighted btrax's progress over the years, our plans for btrax Japan, and how business and design may cross over in the future. In this blog post, Brandon recaps the event.
Takahito Iguchi – founder & CEO of Telepathy, Inc.
The wearable technology trend exploded onto the global scene only recently. We were lucky to hear from Telepathy CEO Takahito Iguchi, a company that has been getting worldwide media attention with its own wearable device, the Telepathy One. We got a first hand look at the device during the party.
Google: Telepathy One is our Direct Competitor
Similar to Google Glass, Telepathy One is worn like a pair of glasses, thereby allowing you to record and photograph what you see from your own perspective. It also incorporates streaming playback and social sharing.
The device was first unveiled at SXSW on 3/11. Hearing the untold development story and the great amount of time and effort put into the design was fascinating, but what was particularly impressive was the small tech startup's interaction with Google, Inc. After being invited to their Mountain View headquarters, Mr. Iguchi received the best compliment he could gotten from Google: "You are our Direct Competitor."
A new lifestyle
Telepathy aims to not only provide a solution for everyday problems, but also to offer a brand new way of life. "If everyone wears it, then we will all be able to communicate each other instantaneously. It's not just  a product – it's a movement," says Mr. Iguchi.
In addition to pursuing business deals, Mr. Iguchi is building the Telepathy Wave community. He puts great effort into employee appreciation activities, and is passionate about motivating Japan's young engineers. He is also opening the Telepathy One development environment with a "Telepathy Space" conference and a Telepathy Summer Camp.
Fumihiko Nakajima – Producer, Dentsu, ltd.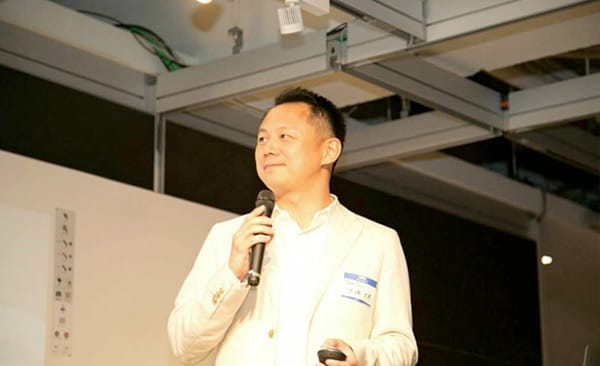 According to Mr. Nakajima of Dentsu, btrax's strength is in "creating new user value by connecting San Francisco tech culture and marketing with Japanese firms and new products."
Dentsu and btrax have deepened their ties through various projects, including a San Francisco development camp for a new photo-sharing app named aquoria. The camp enabled employees from both companies to engage in creative dialogue and exchange ideas on a topics ranging from product strategy to user interface design.
Atsuhiro Murata – UCHIDA YOKO, Ltd.
There are many parts of Uchida Yoko's vision, "Reforming the Workplace Through IT" that really resonate with our company. We recently worked with them on a project called SmartRooms, which is an innovative way to manage meeting room schedules in the workplace. We were responsible for designing the tablet UI for the service, as well as handling movie production and marketing.
btrax – A look back
I founded btrax after graduating from the University of San Francisco in 2004. At its inception, the company had only a team of three people and $5,000 in startup capital.
Our big break came in 2006 with the launch of Expedia Japan. As the new General Manager, Hidemaru Sato asked us to design a localized website for the Japan market. I was a young designer and full of confidence – you might even say I was a little cocky! My sales pitch at the time was: "We have good artistic sensibilities, and we can do the job. Just leave it to us."
Even though Mr. Sato had his initial concerns about how young our company was, he saw the value in btrax services and quality, and ended up growing close with the btrax team. He coached us to always take a no-nonsense attitude toward our jobs and to maintain a never-say-die attitude no matter what. Under his guidance, I grew both as a creator and a businessman. Mr. Sato still keeps a friendly eye on btrax, and we cannot fully express our gratitude.
An Evolution
The successful completion of the Expedia project led us to evolve into a more multicultural company. We  welcomed the first American staff member on board: our current VP of Branding and Strategy, Tim Wagner. After Tim joined the company, btrax grew as a team and we were able to take on many challenges, including the first  SF Japan Night in 2010.
We are now on SF Japan Night VI, and we're currently taking applications for presenters.
Into the Future
Our new vision as a company is to "innovate globally through inspiring experiences." So far, we've mainly handled web design with some digital-media design. In the future, we'd like to focus not only on promotion and web, graphic, and interface design, but also on designing true user experiences (in every sense of the word). Specifically, we'd like to develop services focused on the following three fields:
To be certain, many Japanese firms produce exceptional products that can compete perfectly well overseas. However, they often face pushback from the aggressive marketing and branding strategies used by foreign enterprises. By offering market research, user testing, and branding strategies, we believe we can bring your message to the world.
In recent years, San Francisco has become a mecca for user experience design, and the number of firms connecting their hardware to the internet is greatly on the rise. For example, the Apple iPod revolutionized the music-on-the-go lifestyle, and has become a worldwide phenomenon. We want to emphasize these kinds of user experiences.
We make it our mission not only to increase your brand power but to protect your brand. Many large Japanese firms have the idea that "we'd like to do something fun," but they harbor deep fears that the project will fail. Because of this, they often don't move forward with potentially great ideas.
We're preparing a San Francisco-based program that works with Japanese companies to pursue innovative startup ideas and projects. We want to provide a service that will support these "fun things" and still, hit or miss, protect our clients' brands.
We want to couple comprehensive user experience design with global innovation. With that idea in mind, we intend to diligently pursue these endeavors in the future. By focusing on the above three services, we will continue to support our clients.