Branding the Startup Weekend Bay Area Logo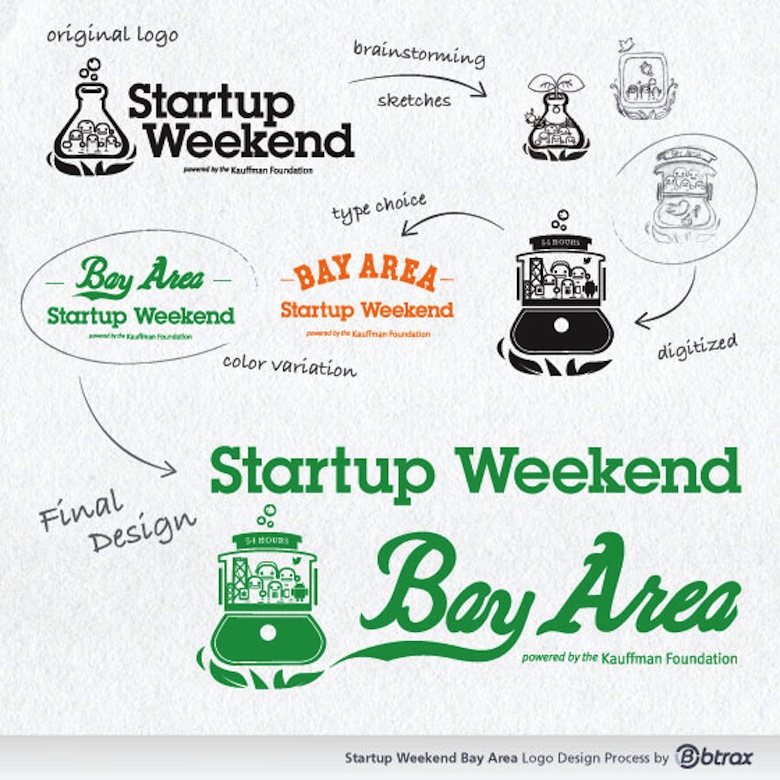 People say that the logo is a symbol that can provide your business or organization with instant and powerful brand recognition and btrax worked with Startup Weekend Bay Area to create that. We designed an elemental logo that speaks to the Bay Area tech scene. Here are some of the logo specifications:
Incorporate the Startup Weekend characters
Incorporate some semblance of the beaker
Use Startup Weekend type font
List "Powered by the Kauffman Foundation" tag
Speak to designers and developers
Include elements that represent the Bay Area tech scene
Include some regional elements, such as a San Francisco Trolley, Golden Gate Bridge
Include something that represents the eco-friendly nature of the Bay Area
Let's take you through our process
1. Brainstorming

Brainstorming requires the freedom to sketch out multiple concepts so that the team and the client can evolve the creative process for the logo design.
2. Initial Design
After the team and client went through iterations, we created the logo using iconic companies and symbols of San Francisco and the Bay Area. We gave our client  some color schemes and type face choice based on some local colors that represented our Bay Area baseball teams.
3. Refinement
The green seemed to resonate with the "green" mindset here in the Bay Area. We gave two versions of the logo to our client to make a final decision.
4. Final Logo
Our client picked the alternate version because of the nice flow. Our client, Ahmed Siddiqui said, "we hope that this logo can be the start of some really new and innovative things coming in 2012 and beyond!"
As you can see, branding the logo requires merging of the current branding elements and regional culture. Please give us some feedback on our design!