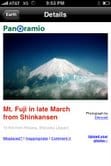 Ever want  to swoop down on Mt.Fuji like a bird or hover over New York City? Done that already with Google Earth?
The Mountain View whizs have now untethered Google Earth with a newiPhone and iPod app.With just a few clicks on their new, slimmed down platform you can zoom from location to location. This move comes as no surprise given Google CEO Eric Schmidt's has seen the writing on the wall and is focusing the tech giant's resources on handheld Internet devices.
The Google Earth app displays the same imagery and offers the same navigational capabilities as the desktop client and at launch will feature layers with geo-located Wikipedia articles and Panoramio photos, as well as map labels and borders.   Available in 18 languages, the app works with both first and second generation models of both the iPhone and iPod touch.