Finalists for SF New Tech Japan Night Are Set!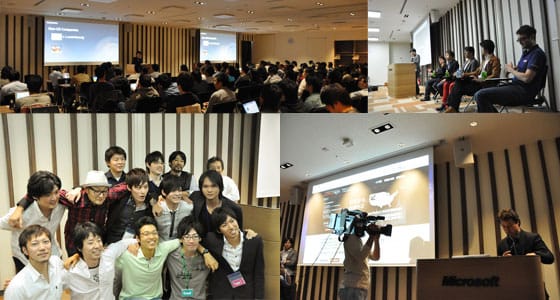 The Japan Night semi-final was held in Tokyo, Japan on October 8 at the Microsoft-Japan offices. Over 300 people were in attendance to see a panel of judges chose the 6 companies that will present in San Francisco.
The 3rd SF New Tech Japan Night will be held again in San Francisco on November 3rd at Mighty. This is the event that Japanese companies can present their Web/mobile services to audience in SF.
The Semi-final, held in Tokyo, featured 12 companies vie for 6 slots chosen by a panel of judges.
The judges in Japan Night Semi-final were Brandon Hill / CEO of btrax, Inc , Yuji Akabane / BreakThrough Partners, Dr. Serkan Toto /TechCrunch Consultant・Editor, Shinichiro Matsumura / MOVIDA JAPAN, Inc and Matthew Romaine, co-founder of SF Japan Night alumni – MyGengo. The MC of the evening was Yukari Mitsuhashi , a well known tech writer and startup evangelist in Japan.  All judges are very famous and influential in the Japanese IT industry .
These companies did their presentations and Q&A in English like it will be in SF. Also, one of the event sponsors, TechWave,  promoted a new program "VANGUARD" that launched in October that will promote startups globally.
This event was covered by Japanese media like TV Tokyo, and other media related to Mobile/Internet companies and Startups.
The 6 companies chosen were the following.
 Facematch, Inc
The best service in Breakthrough Camp 2011 Summer. This is the App where we can meet opposite sex friends on Facebook. The app helps you try to connect with people of similar interests by using the Facebook Friend API. Additionally, Facematch is expected to present a selection of discount coupons from restaurants and various merchandise.

Grow! Inc.
Grow is a social Patron platform that allows blog readers to submit tips to blog publishers. It works like Twitter's retweet button or Facebook's Like button embedded into a blog post, but by clicking on the Grow! button, you can tip the blog author.

midokura, Inc
Midokura is a cloud-enabling company developing a technology to replace the conventional physical devices such as routers with a virtual entity that can be managed on the web. This is software we can make, manage, control the effective network infrastructure of high cloud age without using the expensive network tools.

PIRIKA, Inc
This is App which help us pick up the trash and clean the environment. User can provide their location and information when they picked up the trash through smart phone. It is used in over 600 places in 24 countries.




Vuzz Inc.
SnapDish is a free iPhone application that allows users to take pictures of food, record the location, price and other meta data, and share via your preferred social networks. SnapDish processes the food picture and shares with their family or friends by putting it on Twitter or Facebook.




Joho Planet, Inc.
If you use multiple computers (such as a laptop, a desktop at home, and a desktop PC at office) Synclogue helps you synchronize the configuration of plug-ins for apps you've specified in each computer.
We hope to see you at SF Japan Night!